---

Greenstone Vermont Roof Slate
No other roofing material has the natural beauty and durability of slate!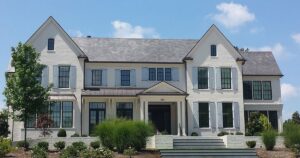 Slate has been acclaimed for generations as the ultimate roofing material. This natural stone has the remarkable ability to be manufactured into thin tiles of uniform thickness. A slate roof simply has no equal in durability and natural beauty. Slate enhances the aesthetic design of nearly any building with its variety of rich natural slate colors and slate textures. There are many benefits to a slate roof from longevity and appearance to energy conservation.
Vermont slate is nature's best slate!
From color to texture to durability, Vermont slate exhibits the best characteristics of slate. Slate is a metamorphic stone and is essentially laminated rock – which is why it has the ability to be split into slate tiles
The geological conditions in the Vermont region when its slate was formed resulted in some of the world's strongest, highest density slate. In fact, Greenstone Slate comes with a 100-year warranty* – a warranty that no other roofing material comes close to matching.
Benefits of a slate roof over other roofing materials
Slate is natural stone – it is more durable than any man-made material, proven to be the 100-year roof.
Fire resistant – slate is completely non-combustible.
Waterproof – it will not absorb water.
Weather resistant including withstanding damage from hail.
Enhances building value with its aesthetic properties and long lifespan.
Green product – lowers net energy costs with its insulating capability and lasts many times longer that other roofing materials, potentially keeping four or five worn out asphalt roofs out of landfills.
Requires little or no maintenance.
Resistant to climatic/seasonal changes.
Impervious to fungus and mold.
Independently tested and documented – ask us for ASTM spec information and test results.
Slate Roof Applications
Residences
Schools and universities
Government buildings
Churches
All types of institutional structures where longevity is critical

The natural color and texture of slate creates a unique and beautiful roof. Greenstone Slate® is available in a variety of:
Colors
Thicknesses
Surface textures
Roof textures

Slate outperforms all man-made roofing materials – the 100-year roof – making it the ideal green roofing solution.
Advanced materials technology has generated some new roofing materials over the years, but slate remains the clear leader in creating the world's longest lasting and most trouble-free roofing material. It is a dense material that slowly and evenly stores heat and then releases it gradually, helping to stabilize interior temperatures. Termed as the 100-year natural roof, a slate roof potentially keeps four or five worn out asphalt roofs out of landfills. It is the standard by which all other roofing materials are compared.
---
Get in Touch
Enjoy the beauty and durability of one of the world's best roofing systems from Exterior Remodel & Design. Please give us a call at 402-861-0000 or email us at exrede@gmail.com. Rely on our 30 combined year of installation and sales experience with Vermont Slate.
---
Free Estimates
Tell us about your project today
Get In Touch
Feel free to contact us in any way
Visit Us
Stop by to schedule a Free Estimate
Check out our work
Click on the image below to view more
Exterior Remodeling & Design
8550 S. 137th Circle, Suite #2
Omaha, NE 68138